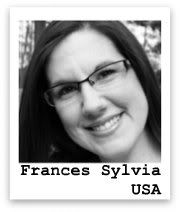 Hello my name is Frances Sylvia and I am from Many, Louisiana. I am a spoiled wife, mother of 4 (all under 9 years old…shew!), Junior High Remediation teacher, and a totally addicted scrapbooker. My greatest inspiration comes from my family and friends in the photos, but I am also inspired by sketches, patterned paper, and what product I am currently swooning over.
My style has evolved like most, but I usually create whimsical layouts with clean lines. There are a few elements I can not leave off a layout these days, such as, hand stitching, doodling, threaded buttons, and layering. Since my time is mostly devoted to being a wife and mother, I believe that scrapbooking should be FUN!! There is no greater pleasure for me than to enjoy my family, put the kids to bed, and relive the memories that we created once again.
Visit Frances' blog:
Forever and a Year
.
...and for your viewing pleasure...Frances' gorgeous layout based on Sketch #69. Absolutely love the treatment she's given to the bunting.
Welcome to the team Frances!