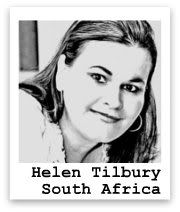 My name is Helen Tilbury & I live in Durban, South Africa with my wonderful & tolerant husband Shane & our 4 precious children aged 17, 16, 13 & 10, plus 3 over-indulged fur babies (cats!).
I am a work-at-home mum & a fashion designer by profession. I have enjoyed an enduring affair with pretty paper & embellishments for 7 years now & can't imagine a life without the smell of new papers & the anticipation of my next delivery of scrapbooking goodies in the mail! I don't believe in labelling my style as I design to suit the mood & subject of my pages but I endeavour to always push my creative limits & constantly grow with my craft.
I am excited to become part of the Inspired Blueprints team & can't wait to get to know you all better & hope to inspire & be inspired by you all as well!
Visit Helen's blog:
Scrap Addict
Helen joins the team as a 12x12 designer...and here's her sweet layout based on Sketch #69!
Welcome to the team Helen!