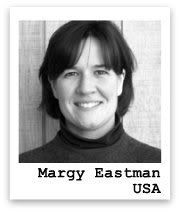 My name is Margy Eastman and I live near Fairbanks, Alaska with my husband, little boy, three dogs and two cats. By day I'm a veterinarian, and by night I'm Mommy. I started scrapping four years ago after my son was born. Back in the day when I had a dedicated space and no sticky fingers to deter, I was a quilter. I've loved the shift to scrapbooking - patterned paper brings me the same joy a good fabric did! I tease my husband that, when he bought me my first Nikon SLR, he created a monster. Now no one is safe from my lens - people nor pets. I'm so excited to be in the Inspired Blueprints design team. I love working from sketches, and these are just the best!
Visit Margy's blog:
Life with the Moose and Spruce
Margy joins the team as an 8.5x11 designer...and here's her simply gorgeous layout based on Sketch #69!
Welcome Margy!
Well there you have it, the Inspired Blueprints team! Join us again soon for the reveal of Sketch #70!!