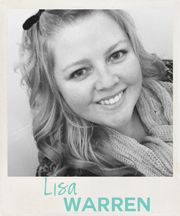 Hi All! Now that I've introduced you to the Inspired Blueprints' fabulous design team, I thought I should introduce myself. Inspired Blueprints is my baby, and I've spent many hours getting us back online, and drafting new sketches for you to play with. I can't wait to reveal the next sketch tomorrow. You're going to love it! Here's a little about me...
Lisa Warren
Located |
Australia
Preferred scrapbooking medium |
I'm a 12x12 paper and glue girl, however I'd love to try a bit of digi scrapping!
What inspired you to begin your creative journey?
I was first introduced to scrapbooking 9 years ago at a Creative Memories workshop. It wasn't love at first sight at all...however 3 workshops later, I was completely hooked! I became a consultant and started sharing the scrapbooking love with anyone and everyone that would listen. I soon discovered all of the wonderful products out there to play with, and the rest is history...


If you were to describe your scrapbooking style in five words, what would they be?
colourful, patterned, clustered, layered, fun!
What type of camera do you use?
I use a Canon 400D DSLR, which I love! If I'm not lugging that around, I'm using my iPhone.
Where do you do most of your scrapbooking?
Lately, the only time I dedicate to scrapbooking is when I'm cropping with my friends at my local scrapbook store,
Scrapbooking Delights
. I've been known to scrap on the lounge room floor, or while lying in bed, and even in the car on the way to work (hubby driving at the time...I'm not that crazy). I have a craft room at home to use, but it really needs organising before I can create in there again. One day I'll share some photos with you.
What time of day are you most creative, and what inspires you to create?
I'm definitely a night person. I love to scrap when it's quiet and the kids have gone to bed. I love crop nights, and find I'm most inspired right before it's time to go home! Typical. lol. I'm mostly inspired by freshly printed photos and the stories attached. New product also gets me itching to scrap...so many pretty papers, colours and patterns!
Why do you love sketches?
Sketches are the perfect jumping off point. They're great for getting your scrapbooking mojo flowing, and to help you to create layouts you wouldn't normally think of yourself. I carry all of Inspired Blueprints sketches in my scrap bag, just in case. It doesn't matter how many times you use a sketch, you can make your layouts look different each and every time.
----------------------------------------------
It was the love of sketches that brought five online friends together to create Inspired Blueprints back in October 2008,
with this sketch
. Here's my first ever layout for IB...while products and trends have changed over the years, IB's sketches are still relevant and fresh looking!
Inspired Blueprints | Sketch 1
It's my continued love of sketches that drives me to continue! I'm so thrilled that Inspired Blueprints is back! Are you ready for Sketch 81? Join me on this journey won't you...