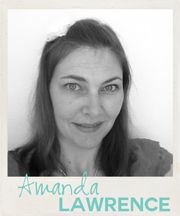 Today I have the pleasure of introducing another of our talented design team here at Inspired Blueprints...
Amanda Lawrence
Preferred scrapbooking medium |
12x12
What inspired you to begin your creative journey?
I always liked the look of scrapbooking but thought I had nothing to scrap about. After the birth of my son I decided to take up the hobby to document his life and milestones.
If you were to describe your scrapbooking style in five words, what would they be?
Clean with clustered embellishments.
What type of camera do you use?
I have two different

Fuji

cameras, which I pull out on special occasions but to be entirely honest my iPhone is what I use everyday. Love all the different camera apps available!
Where do you do most of your scrapbooking?
I work from home so the office is also my creative space.
What time of day are you most creative, and what inspires you to create?
Whenever I can fit it in! I love the creative process and use it as a way to relax so I guess I am inspired by the need for some time to myself.
Why do you love sketches?
I struggle with composition so I always head to my sketches for inspiration when creating, it takes out the guess work and paper shuffling and from there I am free to embellish which is the part I love the most.