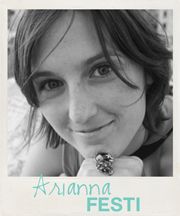 Ciao bellas! We've got another full week of design team introductions...kicking off with the lovely Arianna...
Arianna Festi
Preferred scrapbooking medium | I prefer 12x12 and absolutely paper, I need to touch, feel, smell the materials I work with :)
What inspired you to begin your creative journey?
I've always been attracted to everything creative and manual. Scrapbooking is the perfect craft for me because it puts together crafting with photography and memories keeping, which is really important to me.
If you were to describe your scrapbooking style in five words, what would they be?
I don't know if I have a specific style, but in any case I would define my creative process as clean & simple, instinctive, colourful.
What type of camera do you use?
I have a Canon EOS but also use my phone
Where do you do most of your scrapbooking?
I am lucky enough to have a craft room :)
What time of day are you most creative, and what inspires you to create?
I am more productive in the evening... basically everything inspires me, images or things I read on the Internet, and especially Pinterest; nowadays it's a great source of inspiration! I have a constant flow of ideas going thorough my head during the day
Why do you love sketches?
I think sketches help to overcome the "fear" of not knowing what to put and where in the layout. They give the go to the scrapbooking process.
-----------------------------------------
Arianna has created this fab photo-free layout based on Inspired Blueprints sketch 59. This layout represents all of the things she wants to achieve during 2013...what a great idea!