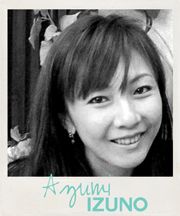 Please join me in welcoming another talented member of the Inspired Blueprints design team...
Preferred scrapping medium
| Paper 12x12
What inspired you to begin your creative journey?
M
y two children made me begin scrapbooking; because every day is treasured with my children!
If you were to describe your scrapbooking style in five words, what would they be?
every day / comfort / communication / memory / treasure
What type of camera do you use?
I'm currently using a single-lens reflex camera, a compact camera, and my smart phone.
Where do you do most of your scrapbooking?
In my scrap space, at home.
What time of day are you most creative?
I'm most creative at night time.
Why do you love sketches?
Because it has made me notice and try out various arrangements on layouts.
-------------------------------------------
I just love this beautifully soft layout Azumi created, based on Inspired Blueprints sketch 79!
Inspired Blueprints | sketch 79