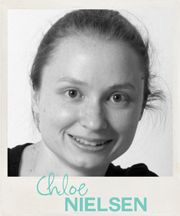 Join me today in welcoming another of our design team members...
Chloe Nielsen
Preferred scrapping medium | I prefer to scrap 12x12 pages in paper and glue. I do occasionally scrap 8.5x11 for my 52 week albums which I have done the last two years. I am still yet to decide if I'll continue this challenge this year!
What inspired you to begin your creative journey?
My scrapping hobby/obsession/habit began about 9 years ago when I decided to put our wedding photos in an album with pretty paper and stickers. Little did I know, there was a whole new world out there revolving around scrapbooking!! And here I was, thinking I was inventing the wheel! I guess you could say, I became more 'serious' about scrapping after the birth of my daughter which provided me with so many photos to scrap, and memories to record.
If you were to describe your scrapbooking style in five words, what would they be?
Mostly clean; with clustered embellishments
What type of camera do you use?
A little point and shoot at the moment.
Where do you do most of your scrapbooking?
At my scrapping table, which is currently situated in our dining room. Oh for my own space!!
What time of day are you most creative, and what inspires you to create?
I can create on and off all day and into the night. Having my table in such a spot means I can walk past and take a minute or two to shuffle papers and embellishments. I am inspired by many things ... often it is my photos, or some papers and many times a scrappy challenge.
Why do you love sketches?
I have always loved sketches and always will! They are the PERFECT way to begin a page. So many times a page will just fall into place when I am following a sketch. I love that they can be adapted to suit different photos, papers and styles. Plus, I think they make scrapping fun.
-------------------------------------
Chloe has created this gorgeous layout based on Inspired Blueprints sketch 31. She has flipped some of the elements to suit her photos, and swapped out the one 6x4 photo for two 3x4 instead!
Inspired Blueprints | sketch 31