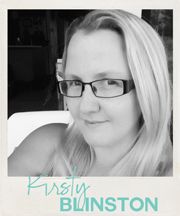 Today, I have the pleasure of introducing our digital design team member at Inspired Blueprints...
Preferred scrapbooking medium
| 12x12, Digital
What inspired you to begin your creative journey?
I was pregnant with my now 7 year old son, when I wanted to create a memory book for him for his upcoming baby shower, I was browsing online and came across something called Digital Scrapbooking on the HP.com website, that lead me to Shabby Princess which lead me to Scrapbook Bytes and the rest is digital history! I have been scrapping ever since!
If you were to describe your scrapbooking style in five words, what would they be?
Fun, Fresh, Clean, Girly, Creative
What type of Camera do you use?
I have a Canon MkIII with a few lenses, my favourite being the 24-105mm! I also have 17-40mm, 70-200mm and the 100-400mm lenses. One of my resolutions is to use this camera at least once every day! I also have an iPhone 4 which I take a lot of photos on every day!
Where do you do most of your scrapbooking?
I do all of my scrapping on my MAC computer using Photoshop CS4, mainly at night once the kids are in bed or sometimes during the day when they are at school/kindy and I need a break from the housework!!
What time of day are you most creative, and what inspires you to create?
I'm most creative in the morning after a morning coffee, however I normally don't have time to scrap then, so I have a little notebook that I keep with me to draw out sketches of ideas I have. I normally scrap at night though and I'm constantly inspired by the things around me and by other scrappers. I love that I can look through the galleries and have a renewed sense of inspiration!
Why do you love sketches?
Like all scrappers, I get scrappy block, where I just don't have the creative motivation to put what's in my head onto the paper. So I love being able to use a sketch, and then playing around in Photoshop, can nearly 100% of the time, get those creative juices flowing again! I love how I can use the base of a sketch to totally transform it away from that exact sketch into something that's all my own!