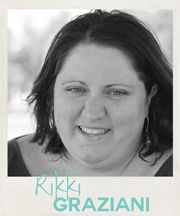 Introducing the first of Inspired Blueprint's new design team...
Rikki Graziani
Located | Au
stralia
Blog | Just Too Obsessed
Preferred scrapping medium
12x12 paper and glue with the occassional hybrid photo editing
What inspired you to begin your creative journey?
I have been madly obsessed by scrapbooking for almost half of my life. I never thought that a hobby that I took up as a teenager would still be fulfulling as an adult, but I continue to be inspired day after day. My children Tristan (10), Ethan (7) and Amelia (2) feature often on my pages and I treasure every layout. I also scrapbook because I love photography and like the idea that future generations will get to know me through
my pages.
If you were to describe your scrapbooking style in five words, what would they be?
Creative, layered, graphic, stylish and arty.
What type of camera do you use?
Canon 500D saving for a 5D
Where do you do most of your scrapbooking?
At home is where I scrap the most I have a custom area for my scrapping and sewing supplies.
What time of day are you most creative, and what inspires you to create?
Usually when my youngest is having a nap and on Sundays when my usual inspiration hits me.
Why do you love sketches?
I love sketches because they give you a great start point that allows you to put your own
interpretation on them and even though the sketch is the same everyone's layouts look completely different.
-----------------------------------------
Check out this gorgeous layout Rikki created based on Sketch no. 1!
Inspired Blueprints | Sketch 1
Welcome to the team Rikki! Looking forward to see more of your work.